Warlocks were introduced during the Halloween Update 2014 with the introduction of the Monster Mash which simulates a "battle" between Warlocks and Monsters.
One guiding/description of the Monster Mash says "Monsters chase Warlocks, Warlocks go for Monsters and Shadow Hunters win by hunting them alike."
Purchasing the
Warlock Gear
, which costs
$9.99

will grant you the full Warlock set.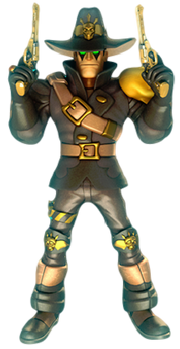 Warlock Gear is tagged by a grey hexagon with a golden winged skull symbol in it. Tags are important for tiers in the Monster Mash and for some special abilities on Armor gear.
Warlock tagged equipment are:
Although not tagged but clearly from Warlocks as well:
Also tagged are the bundles: