The Veteran is the 19th head armor in the game. It gives a 5% accuracy boost and costs 120

.
Appearance
Edit
The Veteran is a man's head with black hair and black eyes. He has long messy hair (like a mullet) and has a knowledgeable expression on his face. Across his forehead he has a red band.
Caution!
Edit
The price tag difference isn't far between the Veteran and the Trick or Treat head, but there is still a difference! A 4000 cash saving can be attained when purchasing the Trick or Treat head over the Veteran. But hey, if it's style you are going for, feel free to purchase the Veteran head!
This head is donned by Rex , an elite who wields a Howitzer Gun .
This headpiece is a reference to the iconic character John Rambo.
Another clothing item that sports a red band is the Rioter Vest.
The red band could be referring to the kamikaze planes in World War 2
This is a direct reference to Rambo, the protagonist of the Rambo series.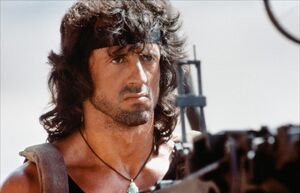 Community content is available under
CC-BY-SA
unless otherwise noted.