The Trick or Treat is the 26th head item in The Respawnables. It is unlocked at level 29. It costs 50,000

. It gives the player 5% accuracy. It is currently the highest accuracy boosting cash priced head. Before the update which you could go higher than level 30, it was the last head to be unlocked.
Appearance
Edit
This head is covered with a black mask with a skull design, yellow shades and a stitched-up mouth. A black helmet completes it.  
This may be a reference to Simon "Ghost" Riley's mask from Call Of Duty : Modern Warfare 2. Unknowingly, in the movie Edge Of Tomorrow, another mask like this was shown in the movie.
It is most likely a reference to the soldiers in Dead Rising 3 that constantly attack you.
This is the only headgear that has a reference to Halloween but not being released in Halloween.
Raptor Blaze wears this into battle along with the Vest and the Private Pants (Green).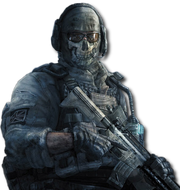 If you are searching for a head item that can help you in sniping then this may be the one you are looking for, because it only costs cash. However, this is NOT the item that gives you the highest accuracy. It's the Urban Ops Beret and the Spec Ops Helmet which give 10% accuracy, and the Yeti Head gives a 7% accuracy boost. All of these cost real life currency however (except Spec Ops Helmet because it is obtainable for free, as a tier prize during Road To Glory).
Community content is available under
CC-BY-SA
unless otherwise noted.