The Toxic Guns is a Dual Weapon introduced in the Halloween Update (2014). It has 12 bullets and boasts great damage and moderate range, poor Accuracy but excellent Agility. It can only be obtained either by purchasing the Monster Gear or the Halloween Weapon Collection, OR, as a tier prize in the Spooky Nights.
Like the Haunted Guns, the Toxic Guns are short ranged, so in order to get kills, the player must engage in close-quarter combat. This weapon has decent damage along with a clip size of 12, so one can kill one or two players before reloading. Due to its high agility, the Run And Gun tactic is a good idea to use with the weapon. However, this weapon does not deal damage over-time after shooting a player, despite the fact that the weapon is "Toxic".
Players can boost the damage output of the weapon by equipping the Monster Face or the Shadow Hunter Braid, which provides a 40% boost and 60% boost in damage for the weapon respectively. This makes killing other players easier due to the damage boost.
Equipping the Monster Pants will provide a 5% boost in agility along with the 5% boost to health provided from the said armor. Shadow Hunter Pants, however will provide a 7% agility boost along with the default 10% health boost.
However, this weapon damage is reduced against Warlock Coat and Shadow Hunter Guard by 40% and 60% respectively, which will either nerf the weapon performance or neutralize the damage boost mentioned earlier.
Weapon Analysis 
Edit
Advantages
Edit
Fast fire rate.
Good agility.
Effective in close range.
Quick reload.
Good damage, coupled with the Monster Face or the Shadow Hunter Braid or other handgun boosting gears, it deals even more damage.
Disadvantages
Edit
Little ammunition, just 12 rounds.
To use it effectively, the player needs to go closer to the enemy for faster kill since it has short range.
Poor accuracy.
Does reduced damage against enemies with the Warlock Coat and Shadow Hunter Guard.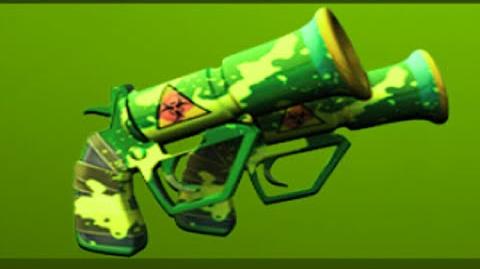 See also
Edit
Community content is available under
CC-BY-SA
unless otherwise noted.