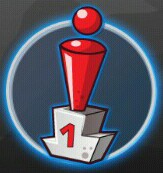 Top of the class is one of the 28 Achievements in The Respawnables.
The description says: Finish first in a match
This achievement can be earned after Maintaining 1st place in a match.
It can be earned after winning either a Mission match, a Free For All Match or a TeamVS match in first place, finishing the match as second place  will count as failure. The reward for this Achievement are 15 Score Points.