The Cyborg is a one of the 4 new Elite Enemies that was introduced in the Superstars (Event) and also appears in the Cyber Menace (Event) along with the Easter Bunny, The Ninja and The Yeti. He wears outfit from the Cyborg equipment but instead uses the Gatling Punch , which was the final prize of the Road to Glory 2016.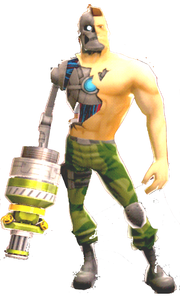 Information
Edit
He gives you Cyborg Oils when you damage and/or kill him, just like the other bots from this event. His summoning animation is similar to the other bots, an explosion for when a random player died. He can be very harmful if you stand still in front of him as he can kill you if your health is low. He can moves fairly fast as every bots from same update, but in return he has poor accuracy just like and the same amount of Health just like the Easter Bunny.
As he uses Gatling Punch, he is not so accurate. You can strafe left-right and easily dodge his bullets, but beware when your health is low, that's when it can be easy for him to kill you.
When using poor weapons like the Airsoft SMG or the Zap Gun, one of the best strategies is to deal with him is to use stun gadgets to immobilize him. Remember to never stand still.
He's only available in Trial 2 of the event.
Community content is available under
CC-BY-SA
unless otherwise noted.