The Superstars (Update) is an update that was added on the 3rd of December 2016.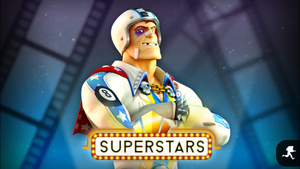 New Features
Edit
Returning Features
Edit
New Changes
Edit
Update Descriptions
Edit
Lights! Camera! Action! There are 4 new Bosses in town! And Respawnables have had to beg for the help of SuperStars like you! To shoot through this event, you need to suit up as a SuperStar and hunt down - and eliminate - the bad ones! There are 3 Stages to scoop up some awesome new weapons.
STUNTMAN SET
This brutal StuntMan will boost your health by 36% and will give you a 7% speed agility boost when carrying all Shotguns. He comes equipped with the new Splasher Shotgun!
NEW MOVIE WEAPONS
• Alien Eye Pistol – are you an MIB agent or an alien? • Plasma Machine Gun – become the coolest MIB agent! • Cousar Crowe Assault – the best anti-material rifle from Elysium!
SUPERSTARS PACK
We have brought your favorite weapons from Ghostbusters, MIB and Elysium to complete your SuperStars' arsenal and make you shine!
• Ghostbuster Plasma Machine Gun • MIB Alien Eye Pistol • Elysium Cousar Crowe Assault • Ghostbuster Proton Gun • Ghostbuster Proton Gun Gen.3 • Ghostbuster Dual Blasters • Ghostbuster Blaster • Ghostbuster Proton Glove • Ghostbuster Proton Shotgun • MIB The Noisy Cricket • MIB Tri Barrel Plasma Rifle • Elysium The Chemrail
Now is your chance to become a Superstar and win the new Dark Matter Gun by completing the event!
— Stars, be ready for your new role! New updates and events coming soon! —
Community content is available under
CC-BY-SA
unless otherwise noted.