The Stuntman Jacket is a Body armor that can only be obtained by purchasing the Stuntman Pack for $14.99

during the Superstars (Update).
As they said, a good defense is a good offense, and this handy little body armor does just that! Along with the additional 12% health, it also grants the player a 50% damage increase for a short period of time (3 seconds) when he/she is being damaged during a match, and it'd takes 3 seconds to "recharge" the effect; therefore, after the armor effect wears out after 3 seconds, find a good spot to hide for a short while to let the effect cool-down before you can go out.
The power-up applies to any weapon the player is using, and the effect is shown by the red glow that appears around the player.
The red glow of the armor's effect is the same to the one that appears when a player picks up a Damage Boost Medal during the Soldiers Graduation (Update).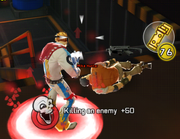 See also
Edit
Community content is available under
CC-BY-SA
unless otherwise noted.