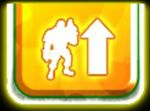 Skills (or Abilities) are constant-effect enhancements for the player; you can buy these while leveling up, and they are available once you reach level 4.
You can see all available Skills and their enhancements using the Skill Tree button on the upper-right of the home screen.
The skill tree contains 20 different perks that can help players either passively or during in-game. Perks that are green mean you can purchase them, a blue perk means that you already bought them and grey perks mean that they are locked (until the reach the requirements needed).
In order to buy a Skill, you will need a certain level of experience, some Cash or Gold and at least one previous skill that's already in the Skill Tree (some of the Skill-Perks have a second or even three tiers).
List of Skills
Edit
 

| Name | Effect | Unlocked at | Cost |
| --- | --- | --- | --- |
| + Health | Increases Health by 5%. | Level 4 | 550 |
| ++ Health | Increases Health by 10%. | Level 5 | 32 |
| + Ammo in machine guns | Increases 50% of ammo per clip for Rookie Machine Gun, Assault Rifle, Guitar Machine Gun and the Little Italy. | Level 6 | 688 |
| + Speed | Increases Agility by 5%. | Level 8 | 859 |
| ++ Speed | Increases Agility by 10%. | Level 9 | 38 |
| Parkour | Increases the height from which you can safely fall. | Level 10 | 1,074 |
| + Range with close combat Weapons | Increases 10% Range of the Shotgun, Blunderbuss  & Revolver. | Level 12 | 1,396 |
| Improve Explosives Awareness | Increases the range to reveal nearby explosives. | Level 13 | 48 |
| + Accuracy while moving | Increases Accuracy while moving with any weapon by 10%. | Level 14 | 1,851 |
| ++ Accuracy while moving  | Increases Accuracy while moving with any weapon by 25%. | Level 16 | 62 |
| + Reload speed in rifles | Increases reloading speed of Assault Rifle, Sniper Rifle & Grenade Launcher by 5%. | Level 18 | 2,360 |
| Gadget Cooldown Speed | Increases the cooldown speed of any Gadget by 5%. | Level 20 | 3,351 |
| Extra Gadget Cooldown Speed | Increases the cooldown speed of any Gadget by 25%. | Level 21 | 84 |
| + Movement speed with heavy weapons | Increases 5% movement speed when carrying the Heavy Machine Gun, Bazooka, Missile Launcher & Howitzer Gun. | Level 23 | 4,759 |
| + Health Recovery Speed | Increases 5% of your Health recovery speed. | Level 24 | 6,900 |
| ++ Health Recovery Speed | Increases 10% of your Health recovery speed. | Level 26 | 118 |
| + Accuracy with dual weapons | Increases 5% of Accuracy of Dual Pistols and Dual Machine Guns. | Level 27 | 20,000 |
| Reduce Damage by Explosives | Reduces Explosive Damage by 5%. | Level 28 | 18,182 |
| Extra Reduce Damage by Explosives | Reduces Explosive Damage by 15%. | Level 30 | 177 |
| Death From Below | Drops a Grenade when killed. (This is currently the final skill, added when the level cap was 30.) | Level 30 | 95,000 |
Fully unlocked skill tree (image below)