The Scoped Assault Rifle is the 8th weapon available for purchase, unlocked at level 9, costing 10,000

and has a 35-round clip. It has decent Damage and Agility like its counterpart, the Assault Rifle, but has infinite Range, Accuracy and firing rate due to its magnifying scope which is good for killing at long range (especially for acquiring easy headshots).
The Scoped Assault Rifle's infinite Range and precise Accuracy allows kills and even headshots to be made at a longer range. However, although its Damage is decent, once fired from afar, your opponent can have chances to seek for cover, making this weapon less effective in serving its purpose. Nevertheless, it is still effective at killing opponents in single mode or multiplayer. Players can also use the scope to kill enemies at safe distance and to counter-attack enemies wielding long range weapons such as the Sniper Rifle.
Overall, it is a good and cheap weapon to have in your arsenal.
When fighting, try to side strafe a lot. Also, don't go Headquarters with this weapon, due to the fact that it's outclassed by Shotguns.
A limited time, Event-exclusive skin for the Scoped Assault Rifle can be obtained as a tier prize in the Summer Camp Event (which is currently inactive). In order to get the skin, you must finish top 3 in the winner team in 2 multiplayer matches (Team Vs mode) during the Event. The skin, when received, textures the Scoped Assault Rifle in blue, green and yellow, but you can switch it back to its original appearance by clicking the button on the icon. Another interesting fact is that you also get the Scoped Assault Rifle for free if you didn't purchase this weapon in the shop.
It has a second skin which can be obtained by completing the third week of the Halloween Haunt 2015 Event. The skin, when received, textures the Scoped Assault Rifle in a black and white color. The skin is of a white skull painted on a black background.
It was the first weapon to have a third skin which was only obtainable by purchasing the Cadet Kit. The skin looks similar to the original skin but it also got white stripes across the scope and grip. The Punisher logo can be seen on its side.
If you thought that was all the skins it had, the Summer Camp 3 (Update) introduced yet ANOTHER skin! This time, it paints the gun crimson red and black and like the Cadet Skin, it features the Punisher logo on its side. This could only be obtained through the Skull Thunder Army for a limited time.
Like any other skin for other weapons, it does not grant any benefits to the Scoped Assault Rifle. This means that it is used for cosmetic purposes only, or to show others that you progressed through an Event.
Weapon analysis
Edit
Advantages
Edit
Disadvantages
Edit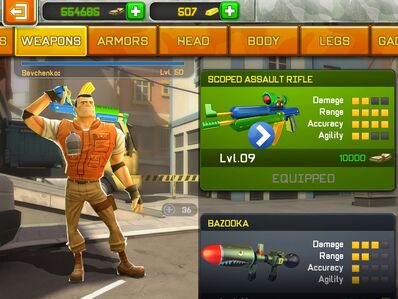 Community content is available under
CC-BY-SA
unless otherwise noted.