"
Get fully equipped with this pack for sabotaging the holidays to every one!
"

— Game Description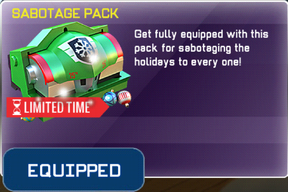 The Sabotage Pack is a bundle that was introduced in the Winter Camp 2016 and can be purchased for $14.99

.
Contents
Trivia
It's most likely a reference to the Grinch character by Dr. Seuss, as the phrase "sabotaging the holidays to every one!" can be seen as what he did in the movie; additionally, it also mentions the word "Grouchy" in the Body's back.

Yet for some, they said the whole bundle looks more similar to the Sam Raimi version of the Green Goblin from Spider-Man rather than the Grinch.

The speed boost has the exact same animations as the Speed-boost pickup from the Soldiers Graduation (Event).
The Sabotage Plate provides the fastest cooldown-time out of all gadgets, following up is the Drill Instructor Pants with 30% for hand-thrown Explosives Gadgets.