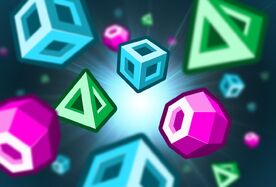 Respawnite is a new currency introduced during the 5 Year Anniversary. It is mainly used to purchase Masteries, a new type of system introduced in the same update. Respawnites have chances to drop from fallen enemies, either Missions or Multiplayer.
There are 3 types of Respawnites currently, and they are:
Common Respawnites: A green-coloured pyramid. (Drop rate highest amongst the three types of Respawnites)
Rare Respawnites: A blue-coloured cube. (Drop rate lower than Common Respawnite, but higher than Legendary Respawnite)
Legendary Respawnites: A purple-coloured polygon with a hallow in the middle. (Drop rate lowest amongst the three types of Respawnites)
Bots in Missions cannot pick up Respawnites and can drop them.
The Common, Rare, and Legendary Respawnites can all be found in clusters of threes.
Clusters of Common Respawnites will give the player 5 Common Respawnites. Rare and Legendary Respawnite clusters will only drop 2 upon collection despite the cluster showing 3.
A legendary Respawnite was given out as the final prize during the first and second trials of Easter Egg Hunt 4
Community content is available under
CC-BY-SA
unless otherwise noted.