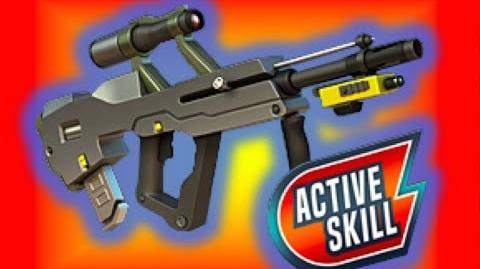 The Paralizer KHR3 is a new weapon introduced in the Summer Camp 4 (Update). It can only be obtained through the Decorated Soldier Set.
Make use of its high agility by using the Run And Gun or Camping techniques. The stats are once again deceiving you: it kills in only 3-4 shots at close range! The active skill of this weapon is useful for slowing down enemies with high agility and finishing them off, granted you actually hit the target. Even though the range of this gun is good, the damage drop off at its longest effective range is drastic, so it is recommended to use this gun in close-range maps such as Sandtown.
Analysis
Edit
Advantages
Edit
High Damage, almost as equal to the Rainbow's End!
Great Agility.
Good Accuracy.
Decent Range.
The skill is very useful in circumstances.

It also has the fastest cooldown out of all built-in skills.

Can be buffed by some equipments.
Has a scope, which can be useful to score long ranged kills.
Disadvantages
Edit
Damage drops off drastically at longer ranges.
Smallest clip for a Assault Weapon (16).
Active skill can be a bit difficult to aim.
Nerfed by the Veteran Scar and/or the Cadet Vest.
Slow rate of fire.
Its the first assault weapon to have a built-in skill.
It is loosely based off the Steyr AUG A1.
The weapon utilizes a sniper scope crosshair.
Because of the high damage per shot, slow rate of fire and the sniper scope the Paralizer KHR3 can be considered as a marksman rifle.
Community content is available under
CC-BY-SA
unless otherwise noted.