The Ninja Master is the 10th Head armor available and was unlocked at level 9. Costed 80

, it provides a 5% boost in agility. However, after the Respawnables 3.0.0 Update, it is no longer available for sale in the shop and can only be obtained through the Speedrun bundle.
Appearance
Edit
This head dons a black stereotypical ninja mask with a a red ninja star symbol on it's forehead. Only the eyes and the upper portion of it's nose is visible.
Ninja Path
Edit
Ninja Path is an event that started on 18th December 2014. Ninja Master is the Tier 1 prize that can be won by earning 500 ninja points.
The Ninja Master head provides +15 ninja points when killing an enemy.
Nightmare (The elite who wields the Double Barrel Shotgun) uses this mask.
If players want to avoid wasting gold and only look to buy it for it's %5 agility boost, it is advised that they wait until they reach higher levels because they can buy the Trapper Hat which gives the same stat boost using cash.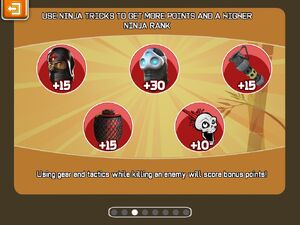 Community content is available under
CC-BY-SA
unless otherwise noted.