The Missile Launcher is a weapon that is available at level 13. It holds 4 rockets, which each rocket able to inflict extremely high damage. It is very accurate despite its stats, but has slow agility. Before the Respawnables 3.0.0 Update, it costs

, but now can only be obtained either through buying the Juggernaut or through event.
Being one of the first weapons unlocked that is able to deal very high damage, this deadly weapon quickly tears apart enemy players. However, it is an explosive weapon, so it is best not to engage enemies in close combat as you may get killed by your own weapon. Its range, although moderate, can be used to attain long range kills and just like any explosive weapon, multi kills. Its Accuracy stat may seem low but it actually has pinpoint crosshairs, and the missiles fly faster than its brother, the Bazooka, and boasts more rounds overall.
Take care not to expel all the bullets, as the reloading time is extremely long (takes about 4 seconds), giving your opponents the chance to kill you. The Agility is also poor, so it is not recommended to chase faster enemies or scout. It is better at close range engagements, as the rockets explode on impact and the powerful splash alone can kill the enemy. A good tactic is to patrol the map, and after using all four rockets, retreat and hide to reload, then repeat the process. The weapon can be used effectively even when running around, as its capacity and powerful rockets can easily take out an entire group. This is a good weapon for low levels but once you have unlocked the Howitzer Gun, you should consider buying that as it is significantly better than the Missile Launcher. Overall, this unique weapon is easy to use and remains a threat to more powerful opponents. By utilizing its pin-point accuracy and it's four powerful rockets, it can take out even the heaviest enemy with ease.
The elite enemy Hammer uses the Missile Launcher as his signature weapon. He can be a hassle to fight, but drops good rewards if he is dealt the final blow by you.
Weapon Analysis
Edit
Advantages
Edit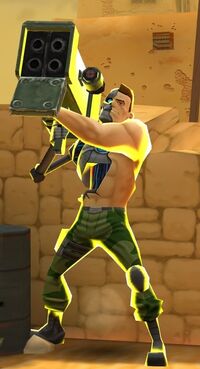 Disadvantages
Edit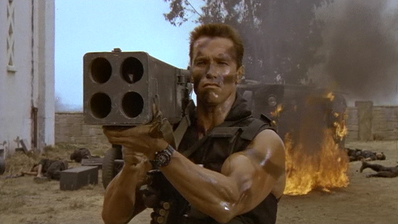 See also
Edit
Community content is available under
CC-BY-SA
unless otherwise noted.