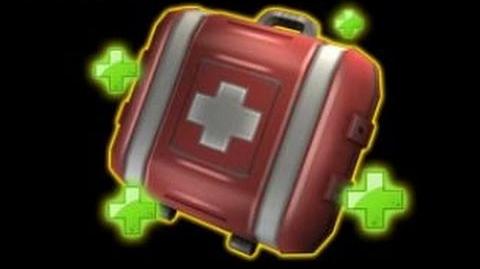 The Medikit is the 5th Gadget available, it is unlocked at level 7 and costs 1,250

per 5 Medikits. Previously when used, it fully restores the user's Health. However, during the Road to Glory 2016 Event, many changes were made.
Appearance
Edit
A maroon box with a handle on it. It has a two opening locks and a hollow area on the front, which has a medical cross on it.
New Strategy
Edit
Because of the new changes to the gadget, the Medikit now slowly and gradually heals the user. In addition, you cannot fire while under the healing effect of the gadget, making it very unpleasant to use while fighting. The gadget will still try to heal you even if you are under fire, and the effect will stop after you are fully healed. One strategy is to use this gadget while behind cover, healing you quickly before you can proceed in battle.
Prior to Hand Grenade Fest 3, this gadget recovered 100% of your health instantly.

Since the said event, this gadget was nerfed in a major way-so instead of restoring the player's health IMMEDIATELY, it will takes 1.5 seconds to heal HALF of the player's health first, and then go on and restores the full health. Furthermore, player can NOT press the fire button WHILE HEALING, thus, many have said that it became a "balanced" gadget now.
The healing will keep on for up to 5 seconds (assuming you keep receiving damages but not too high) or until the health is fully replenished.
However, this was changed so now you can fire your weapon while being healed.
Community content is available under
CC-BY-SA
unless otherwise noted.