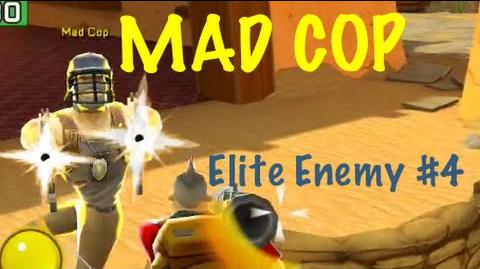 Mad Cop is an elite enemy that is encountered after unlocking Snow Village.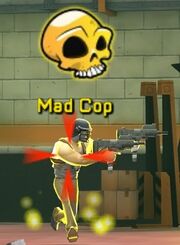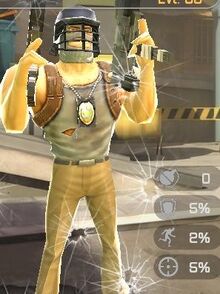 Equipment
Edit
Riot Helmet - 5% Health
The Real Cop - 5% Accuracy
Beige Suit Pants - 2% Agility
Dual Machine Guns - a weapon with excellent Damage and Agility and moderate Range and Accuracy( can be bought at the store for 240

. )
Avoid direct confrontation with Mad Cop as his Dual Machine Guns will kill players quickly unless their armor rating exceeds 10% or if they are underneath his arms.
Confront Mad Cop at long range because Dual Machine Guns are very, very powerful at short/ medium range. It is best to use a weapon that has four bars of Range or three bars at a minimum.
His clothing is a reference to the Protagonist from the Die Hard Series except he is wearing a riot Helmet.
Replacement Level
Edit
He will be replaced by Flame when the player reached level 21.
Community content is available under
CC-BY-SA
unless otherwise noted.