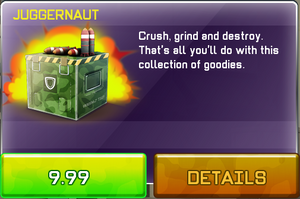 Juggernaut
is a bundle in the game. The bundle is heavily focused on high
Health
and enemy suppression.
This bundle currently costs $11.99

. The Summer Camp 2 (Update) , changed the cost from $9.99

to $11.99

.
Description

Edit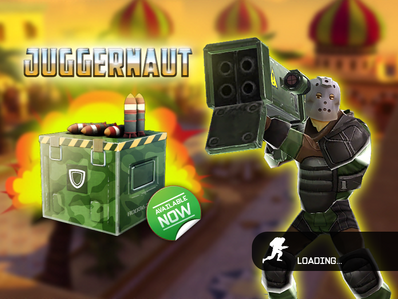 "Crush, grind and destroy. That's all you'll do with this collection of goodies."
The Juggernaut bundle is useful to survive longer in firefights and to take down tough bots like Snake Predator and Rocket Crush. The Missile Launcher is also capable of weakening elite enemies since the high damage can kill them with ease. The Juggernaut is powerful. While in the other side the Missile Launcher is rather slow for anything except fast to destroy enemies. But because of the Desert Equipment, the Juggernaut is rather "diminished" and abandoned by the gamers. But for several starters buying this means surviving more.
Masked Viper wears the full outfit of the Juggernaut bundle, without the Missile Launcher.
Previously, the contents of this bundle were available for sale separately. However after the Respawnables 3.0.0 Update, the only way to obtain the contents is through the bundle.
Community content is available under
CC-BY-SA
unless otherwise noted.