The Impaler's Eyepatch is a head armor that was added in the Spooky Nights and can be obtained either as a tier prize or by purchasing the Impaler's Set for $9.99

.
Appearance
The head features a white long haired man with a pair of sharp fangs (most probably a vampire), with an eyepatch on his right eye. The left eye is bloodshot and the skin surrounding it is darkened.
Function
Upon picking up a medal, your Health will be healed by approximately 45%, while collecting multiple medals can help you to fully recover your health. In an intense fight, any medals around you will be your advantage to survive longer.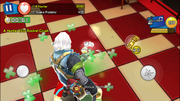 Trivia
This is the second head to feature an eyepatch, the first being B.B. Headgear
Although it shows the fangs as displayed and in the loading screens, they aren't visible in-game, unlike the High School Vampire.
Drops from Elite bots or event pickups will also heal the player.

Additionally, it's the second armor that can heal the user (without having to use the Medikit), and following up are the Werewolf Armor, the Lucky Braces and the Classic Hunter Jeans.
However, this Head armor was tweaked during the Lucky Map Quest Update as this armor no longer heals the player to full health. It only heal about 35%-45% of the player's health.
See Also
Community content is available under
CC-BY-SA
unless otherwise noted.