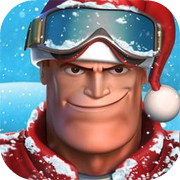 The
Holiday Update 2014
came out on the 16th December 2014 on iOS and 18th December 2014 on Android.
Two available bundles are:
Both bundles are purchaseable with real money. Santa's Gear provides +15% health, Classic Santa's Gear provides +15% agility in total. The Flare Gun is one shot kill in all modes.
Once again,♙Holiday Town is back!
New gadgets were added which are Stun Grenade and Ninja Bomb. Stun Grenades cost 750

per 5 grenades. Ninja Bomb costs real money.
A new event came out on the 18th December 2014, the Ninja Path.
New Features
Edit
Returning Features
Edit
This is the second annual holiday update in the game.
This is the first update to introduce an event not related to its theme nor mentioned on its description.
Like the Halloween Update 2014, some features from last year's update was rereleased.
The Respawnables Facebook photos
Edit
Community content is available under
CC-BY-SA
unless otherwise noted.