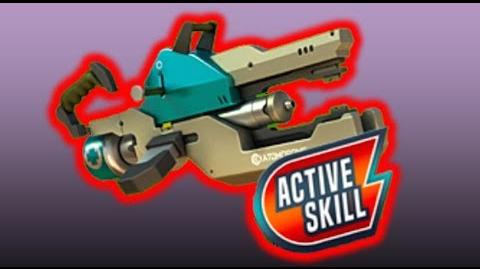 The Heavy-Medyk MK 1 is a weapon introduced in the AtomCon Update. It is only obtainable from the Medic Kit. It is capable of healing other players.
Strategy
Edit
The Heavy-Medyk MK 1 is unique among all of the other weapons in the game. With a press of the skill button, you can switch between standard damaging bullets and healing ammo that can be used to heal other players. This can allows the player to fill put the unique role of being a healer, helping weakened team members get back in the fight or keeping them alive as they charge towards the opposing team. But since this is Respawnables after all, this weapon can still kill other players with its decent damage and good range. Use the Camping strategy to heal allies from afar or attack enemies. The good range ensures that it can be consistently used in various maps. However, outside of Team Vs. mode, the healing ammo becomes USELESS, and you must constantly switch between healing and damaging ammo constantly. Also, there really isn't any benefits to healing your teammates realistically as the game generally revolves around being offensive. Combine this with various 1-shot kill weapons such as the Aristocrat's Shotgun, and the healing skill of this weapon seems a lot less useful than you'd think. Plus, there are generally better Heavy Machine Guns to use offensively such as the Armed Guitar Case, Minigun, and Triple Barrel Gatling.
Analysis
Edit
Advantage
Edit
Has the ability to heal allies.
Good range.
Actually has decent damage, accuracy, and range.
Disadvantage
Edit
Depletes ammo quickly.
Healing power is not reliable - Compensated only by high rate of fire.
The name may be a reference to the video game, Team Fortress 2. In the game, it is common to see Medics constantly healing or "Pocketing" Heavies, as he is a very powerful class. Players then coined the phrase "Heavy-Medic Combo", after seeing the pair so many times.
A selective fire switch is clearly visible on the right.
When in healing mode, the user is will have a light blue "radiant" sparkle.
Community content is available under
CC-BY-SA
unless otherwise noted.