The Headquarters is a map in Respawnables. This map is supposed to belong to AtomDrome, who also owns The Rocket.
The map is unlocked at level 15.
The headquarters is in an unknown place. But seems like it is managed as the headquarters for The ATOMDROME company, Also it seems to show a geographical map with countries and state regions and or major cities labelled with red dots. Some of these seem to be India, The PR of China, Mongolia, Australia, New Zealand, UK, the Austro-Hungarian empire and or Germany, Madagascar, Brazil, Greenland, Finland, Sudan and some other countries plus a few American states, possibly California included.  
Atomdrome is planning a global assault or trying to prevent a war from happening. However, it seems that some of these places are rocket launching locations. On the computers, it shows pictures of rockets. On the picture to the right, the piece of paper shows three steps labeled "Master Plan."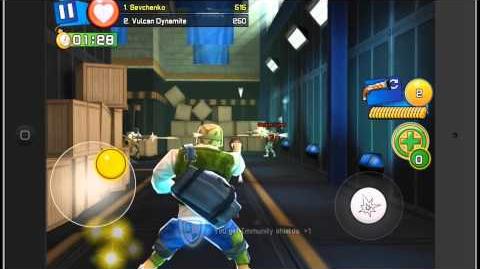 Strategy
Edit
This place is not ideal for sniping since there are no high grounds from which to snipe. This map is designed like a maze so it can fool any player in there. Even the Bots will have some trouble navigating. The map has a few short bridges that connect one side to a second half of the map. The command center in the middle can be used to cross from one part of the map to the next also bots like Vulcan Dynamite, Rocket Crush and Snake Predator are able to hold off here well.
Ghostbusters (Event) Reskin
Edit
During the Ghostbusters (Event), this map got a completely new reskin! The map itself got a massive overhaul that changes the way players are supposed to play in the map. The map also possesses an easter egg in the form of lockers in the map. The lockers itself got the the names of both the new and old Ghostbusters crew imprinted on it!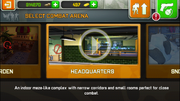 Soldiers Graduation
Edit
In the Soldiers Graduation (Update), the old Headquarters was returned to the game. However, the new Headquarters was renamed and is now a separate map named Bewitched Headquarters. The original Headquarters was redesigned to be smaller with some aesthetic changes to differ from Bewitched Headquarters.