The Guitar Machine Gun is the 16th weapon available and costs 365

. It is unlocked at level 24 and has a high clip of 80 bullets which can be upgraded to 120 bullets by purchasing the + Ammo in machine guns perk in the Skill Tree.
The Guitar Machine Gun has excellent Damage output, very high rate of fire, long Range and excellent Accuracy, what allows you take down heavily armored enemies with ease. Its high capacity is rivaled only by the Heavy Machine Gun, Zap Gun, Proton Gun, and the Minigun so you don't have to worry much about reloading. It takes just a few seconds to take out someone and you will notice that it doesn't run out of ammo as fast as you think. Its great Range and excellent Accuracy makes it easy for long range kills. Perhaps the only disadvantage of this weapon is its Agility, which is something you might not wish to have at this level. Overall, this is a good gun to get as the DPS (damage per second) is very good, eliminating enemies as quick as your eyes can see.
Nevertheless, this is a great weapon to own if you are able to pay the hefty cost,

The Elite Bot Flame owns this powerful weapon and has Agility-enhancing equipment to compensate for it's slow Agility.
Weapon Analysis
Edit
Advantages
Edit
Disadvantages
Edit
The Guitar Machine Gun is quite inneffective at closer range, when going up against other weapons such as Blunderbuss or Double Barrel Shotgun.
Even though it has a large ammo clip, it's fast fire rate drains it quickly.
Nerfed by the Cadet Vest and the Veteran Scar.
Rather mediocre Damage compared to other Assault Weapons.
Rock Star
Edit
The achievement, "Rock Star", can be earned by killing 50 enemies with the Guitar Machine Gun.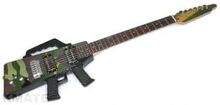 See also
Edit
Community content is available under
CC-BY-SA
unless otherwise noted.