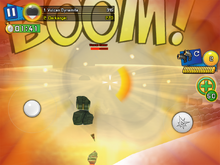 Explosives are exploding weapons that can usually kill an enemy in 1, 2, 3, or 4 shots depending on what kind of Armor they have. Most explosive weapons make "Thunk!", "Whoosh!" and for some, "Zzzap!" screen splashes after firing. They also have a BOOM! effect when they come to contact with any surface.
Explosive Weapons
Edit
Some weapons are just pure explosive kinds, where their damage can be reduced by the Anti-Explosive Pack, the Red Hero Armor, the Black Hero Armor, Biker Vest, and the S.F. Vest. They are the:
Explosive weapons are not the only weapons that do splash damage. Many energy weapons, such as the Plasma Punch, Falling Star, and many others.
Explosive Gadgets
Edit
These gadgets are known for their explosive characteristics. While most of them explode after a period of time (after thrown), some of them explode upon impact. However, just like the weapons above, their damage can be reduced by the Anti-Explosive Pack, the Biker Vest, the Red Hero Armor, the Black Hero Armor, and the S.F. Vest. Here is the list of them: