The E​xosuit is the first armor in the game. It was released after the Elysium update. The armor, when equipped, can give players a great boost in agility as well as a nice accuracy rating. However, the health is its main weakness so it is best for players to avoid prolonged firefights as it will not support them long. Buying this armor costs $6.99

. The level prerequisite is used to be level 31 before the update.
Appearance
Edit
Thin steel light armor plating surrounding a light grey shirt and a pair of blue jeans.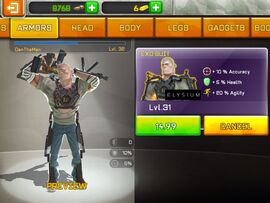 The Exosuit is from the movie Elysium that was previewed during 2013.
The character resembles Elysium's protagonist Max De Costa.
The lack of health could be the fact that the armor is only made out of thin steel and that most of it does not cover the player's vital areas.
It is the first armor available in the game.
Many people used to use this suit along with the Noisy Cricket (before the bug is fixed) and Blunderbuss.
This suit is overall balanced besides the Health, so most players tend to use it.
After some updates, the level prerequisite was removed, so everyone can buy it.
Community content is available under
CC-BY-SA
unless otherwise noted.