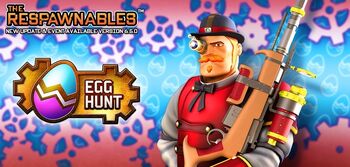 If you are looking for the first Easter Egg Hunt, look here, the second Easter Egg Hunt is here, and the third Easter Egg Hunt is here. The Easter Egg Hunt 4 is an event that was released on March 15th, 2018 in the Easter Egg Hunt 4 (Update).
This event occurs in Free For All mode.
Trial 1
Trial 2
This trial lasted for 8 days.
Trial 3
This trial lasted for 4 days.
Trial 4
This trial lasted for 6 days.
Trivia
This event's countdown picture differed from older events by teasing the Prankster Box bundle, instead of the usual Dynamite clock countdown.
All Sniper Rifles were "On Fire" and got a 25% reload speed boost and 20% damage boost during the entirety of the event.
A few armors were giving Easter Egg multipliers, increasing the amount of Easter Eggs given from drops. The Easter Bunny Ears, Classic Hunter Cap, and Warrior Bunny Vest were given a 2x multiplier, and the Forest Shadow Hood and the Warrior Bunny Mask were given a 4x multiplier.
During the entire event, the Classy Watcher and 'Tinkerer' Steam Bundles were on sale.
During the first trial, the Rail Gun was available for $6.99.
During the second trial, the CCP VI armors were available for $2.99 a piece, and the DMR-003 was available for $5.99.
During the third trial, The Fire Clacker was available for $4.99.
During the fourth trial, The Hunter Rifle was available for $8.84.
Community content is available under
CC-BY-SA
unless otherwise noted.