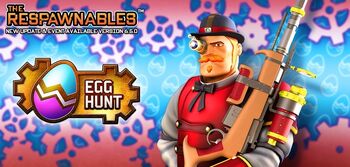 If you are looking for the first Easter Egg Hunt, look here, the second Easter Egg Hunt is here, and the third Easter Egg Hunt is here. The Easter Egg Hunt 4 is an event that was released on March 15th, 2018 in the Easter Egg Hunt 4 (Update).
This event occurs in Free For All mode.
Trial 1
Trial 2
This trial lasted for 8 days.
Trial 3
This trial lasted for 4 days.
Trial 4
Tier
Prize
Description
1
20 Stun Grenades
Collect 31 Easter Eggs
2
7,500 Cash
Collect 41 Easter Eggs
3
10 Gold
Collect 60 Easter Eggs
4
10 Shockwave Grenades

Collect 90 Easter Eggs

5
3 Rare Respawnites

Collect 150 Easter Eggs

6
50 Gold

Collect 300 Easter Eggs

7
1 Legendary Respawnite
Collect 700

Easter Eggs


8
'Rocky' Shotgun
Collect 800 Easter Eggs
Total
20 Stun Grenades, 7,500 Cash, 60 Gold, 10 Shockwave Grenades, 3 Rare Respawnites, 1 Legendary Respawnite, 'Rocky' Shotgun
Collect ???? Easter Eggs
Trivia
This event's countdown picture differed from older events by teasing the Prankster Box bundle, instead of the usual Dynamite clock countdown.
All Sniper Rifles were "On Fire" and got a 25% reload speed boost and 20% damage boost during the entirety of the event.
A few armors were giving Easter Egg multipliers, increasing the amount of Easter Eggs given from drops. The Easter Bunny Ears, Classic Hunter Cap, and Warrior Bunny Vest were given a 2x multiplier, and the Forest Shadow Hood and the Warrior Bunny Mask were given a 4x multiplier.
During the first trial, the Rail Gun was available for $6.99.
During the second trial, the CCP VI armors were available for $2.99 a piece, and the DMR-003 was available for $5.99.
During the third trial, The Fire Clacker was available for $4.99.
Community content is available under
CC-BY-SA
unless otherwise noted.