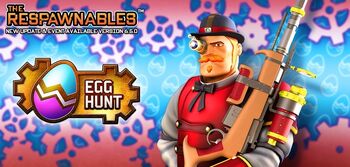 If you are looking for the first Easter Egg Hunt, look here, the second Easter Egg Hunt is here, and the third Easter Egg Hunt is here. The Easter Egg Hunt 4 was an event that was released on March 15th, 2018 in the Easter Update 2018.
This event occured in Free For All mode.
This trial lasted for 8 days.
This trial lasted for 4 days.
This trial lasted for 6 days.
This event's countdown picture differed from older events by teasing the Prankster Box bundle, instead of the usual Dynamite clock countdown.
All Sniper Rifles were "On Fire" and got a 25% reload speed boost and 20% damage boost during the entirety of the event.
A few armors were giving Easter Egg multipliers, increasing the amount of Easter Eggs given from drops. The Easter Bunny Ears, Classic Hunter Cap, Easter Bunny Headset, and Warrior Bunny Vest were given a 2x multiplier, and the Forest Shadow Hood and the Warrior Bunny Mask were given a 4x multiplier.
During the entire event, the Classy Watcher and 'Tinkerer' Steam Bundles were on sale.
During the first trial, the Rail Gun was available for $6.99.
During the second trial, the CCP VI armors were available for $2.99 a piece, and the DMR-003 was available for $5.99.
During the third trial, The Fire Clacker was available for $4.99.
During the fourth trial, The Hunter Rifle, Poison Hunter Pack, Leather Ranger Pack, and Steam Equipment were on sale.