"
Easter Bunnies are vicious creatures with nothing else in mind but stealing Easter Eggs and running as fast as the wind.
"

— Game Descriptions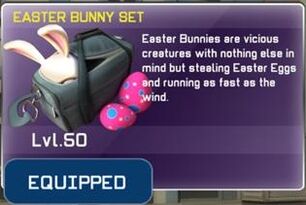 The Easter Bunny Set is a bundle that was added on April 4th, 2014 during the Easter Holiday Update. It costs $6.99

and comes with the Easter Bunny Equipment that is also obtainable with eggs and 75 Super Easter Grenades which are also buyable with gold.
Description
Edit
"Easter Bunnies are vicious creatures with nothing else in mind but stealing Easter Eggs and running as fast as the wind."
NOTE: The armor itself can be earn by completing the tiers from various Easter Eggs-themed events!
A player with high Agility can easily dodge rockets and flee from combat at a moments notice as well as not dropping Easter Eggs which allow other players to unlock weapon skins or the exclusive limited time only Hunter Rifle. Also it is a good combination for the Blunderbuss to play with, since it has 21% Agility and it outruns the Exosuit.
The major downside to this cheerful outfit is that their are no Health boosts nor Accuracy boosts as this can get players killed if they by happen to run into a player at the wrong time and at the wrong place. Another downside to the outfit is the Easter Bunny Ears, it is ridiculously big so it is very vulnerable to headshots from the sniper making it a one shot kill to the victim. Due to the size, it's recommended to use the Rioter Ski Mask since it has the same amount of Agility.
Community content is available under
CC-BY-SA
unless otherwise noted.