For its single counterpart, see the Revolver.
The Dual Revolvers are the 28th weapon available, costing 600

and is unlocked at level 50. It has very high damage and agility, moderate range and high accuracy. Both handguns combined have a capacity of 12 rounds.
The Dual Revolvers, unlike its single counterpart, the Revolver, sacrifices its accuracy and range to double its ammo from 6 to 12 bullets.
The Run And Gun tactic works well for this weapon, being able to still take out opponents easily with just two or three shots depending on range. It can take more bullets the further the opponent is from you. Use the weapon just like a normal revolver, shoot from afar and you be able to take the opponent out relatively quickly as the guns retain their counterpart's fire rate. The reload speed is also fast allowing you to stay in combat for a good period of time.
Weapon Analysis
Edit
Advantages
Edit
Exceptionally good damage per shot.
Has double the ammo than the Revolver.
Pretty fast in Agility and reloading speed.
Due to its big crosshair, auto-aiming is much easier than its single counterpart.
Great accuracy for a dual weapon.
Similar to its single counterpart, this weapon can easily headshot enemies if they're charging up to you (This actually happens with the Dual Revolvers more than the Revolver).
Disadvantages
Edit
It has a lower range and each time when the target is farther, the Dual Revolvers will do lesser damage.
Very high price tag of (600 ).
It has the worst RoF of all the Dual Weapons in the game.
The accuracy is slightly lower than the Revolver.
Nerfed by the Brazilian Warrior Mask, reducing 60% of the weapon damage per shot hit.
Whiplash
Edit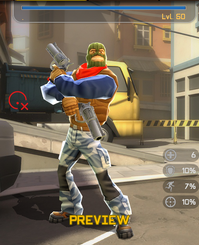 The elite enemy Whiplash wields these deadly weapons, making him tough at close to medium-range fights. His situational awareness, however, is very poor.
See also
Edit
Community content is available under
CC-BY-SA
unless otherwise noted.