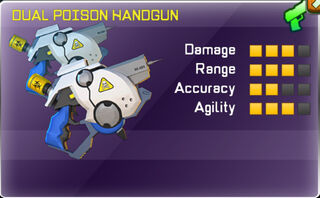 For the single counterpart, see Poison Dart Handgun.
The Dual Poison Handgun is a poison-based handgun released in the Carnival 2018 Update as a part of the Brazilian Brawler Gear. This weapon does the same damage and has the same range and rate of fire as the Poison Dart Handgun. It sacrifices some agility and accuracy in exchange for a doubled clip size.
Weapon Analysis
Advantages
Good range for a handgun.
Poisons targets upon hitting them, gradually damaging them over time!
Good clip size (6).
Can be buffed with certain equipments, most notably the B.B. Jacket.
Fast reload speed.
Can poison those using Immunity Shield so that they will be poisoned after the shield wears off.
Good agility, considering its long range.
Disadvantages
Very slow rate of fire, equivalent to that of the Poison Dart Handgun.
The accuracy is low enough for you to miss shots.
The weapon deals low damage without the poison effect, making it very possible for your enemies to finish you off before the poison effect actually kills them.
Poison damage can be easily healed off with Medikit or certain other equipments, most notably the Impaler's Eyepatch.
Can be nerfed by poison-nerfing and handgun-nerfing equipments like the Poison Hunter Hat and the Blackbird Headset.
You can't strafe quickly with this weapon.
Trivia
This weapon should be named "Dual Poison Dart Handgun," but the developers did not include the word "Dart."
It is the 8th weapon to be the double variant of an already existing weapon. The first seven dual weapons are Dual Revolvers, Dual Rookie Machine Guns, Dual Stake Launchers, Dual Freedom Revolvers, Dual Airsoft SMG, Dual Blasters and Dual Blunderbuss.
The bullets it fires are green, while the bullets from Poison Dart Handgun are bright yellow.
When firing, the guns do not flinch up and down (from recoil) like most of the other handguns, even including its single counterpart. As of Carnival 2018 (Update), the only other handgun that possesses this attribute is the Fire Spitter.
When firing, the "bang" sign that shows up is green and covered in poison drops to further emphasize the fact that this weapon is a poison weapon.
Community content is available under
CC-BY-SA
unless otherwise noted.