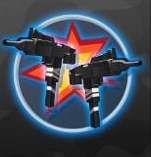 Double the pleasure, double the fun!  is one of 28 Achievements in The Respawnables.
The description says Kill 500 enemies with the Dual Machine Guns.
Note that all enemies in either Mission or in Multiplayer will work for this Achievement.
The reward for this achievement is 15 Score Points (when achieved during a match).
Tips & Tricks
Edit
Engaging in close combat is the best way to go, as the very high damage coupled with equally high agility will make you a fast-moving killer able to subdue opponents in a few seconds. The increase in range allows you to shoot further away, but the accuracy has no change from Dual Pistols, meaning long range combat with this weapon is not advised. It is preferable to use smaller maps where it is easier to attack from mid-range.