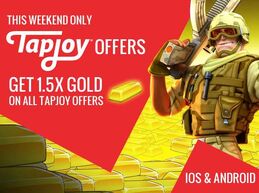 The Desert Equipment gives a 30% health boost to players - an extraordinary amount. It can only be purchased with gold and the player level must be 35 or up for it to be unlocked.
In the Easter Holiday Update, a new bundle that is only available at the new section called deals under the name Desert Storm features the Desert Equipment, Scoped Assault Rifle and some gold. Unfortunately, buying the deal costs real life money.
Advantages
Edit
With this equipment, your health is increased by a drastic 30%, allowing the player to withstand prolonged firefights and explosives. However, players should not get overly confident as it does not prevent death entirely.
The Desert Equipment is the same kind of camouflage used by the United States Marine corps during the wars in the Middle East. However the Shoulder patches indicate them as GIGN which is not the correct emblem for the U.S Marines.
This could be a new elite enemy in a future update since the Snow equipment becomes an elite enemy called Blizzard which was hinted on a poster in snow village.
It is one of the equipment that gives the second most amount of health (30%) along with the Anti-Explosive Pack. The first being the Black Hero Armor and the A.S.P Armor which gives 35% health.
As the Desert Equipment' is very expensive, not many people have or use it in multiplayer.
You can purchase the necessary components to make the Desert equipment set under the bundle's screen.