The Cyber Menace (Update) is an update that was added on the 4th of May, 2017.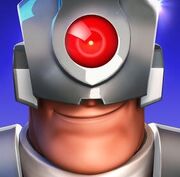 New Features
Events
Weapons
Armors
Bundles
Bots
Returning Features
Bundles
Weapons
Bots
New Changes
Update Descriptions
<cyb0rg> hello friend
<cyb0rg> we have taken control over The Respawnables system. we come to rescue you. we want you to join our rebellion and be our ally.
<cyb0rg> please, we kindly beg you to choose:<ally>or<enemy><cyb0rg>
...
...
OK. pick your best energy weapon.
<--other-invasion-news-->
(1) new weapon tag system
(2) ghost clam trap rework
Gallery
Community content is available under
CC-BY-SA
unless otherwise noted.