The Cyber Menace (Update) is an update that was added on the 4th of May, 2017.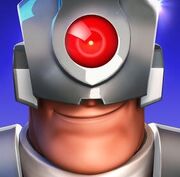 New FeaturesEdit
Returning FeaturesEdit
New ChangesEdit
Update DescriptionsEdit
[cyb0rg] hello friend
[cyb0rg] we have taken control over The Respawnables system. we come to rescue you. we want you to join our rebellion and be our ally. we know you share our anger and thirst for power.
[cyb0rg] we offer you to be our human ally or be our worst enemy. please, we kindly beg you to choose:
[ally]or[enemy]
…
…
[cyb0rg] OK
[cyb0rg] we hope you are prepared. pick your best energy weapon.
[cyb0rg] hasta la vista baby
[--other-invasion-news--]
(1) new weapon tag system
(2) ghost clam trap rework
[/--other-invasion-news--]