Black Friday is a period of time, usually the fourth Friday of November when certain items are put on sale.  All of the items are limited-time offers and can only be bought with real-life currency.
The Black Friday Sale 2015 was released on 27th November 2015. It is believed that the next Black Friday Sale is in Friday November 25th 2016.
Contains: Warrior Bunny Pants, Warrior Bunny Vest, Warrior Bunny Pants, Hunter Rifle (with skin).
Contains: Brazilian Warrior Mask, Brazilian Warrior Vest, Brazilian Warrior Pants, Dual Rookie Machine Guns (with skin).
Contains: Cyber Ninja Helmet, Cyber Ninja Breastplate, Cyber Ninja Greaves, Dual Energy Pistols.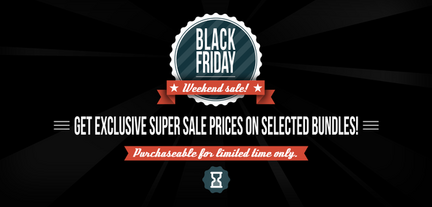 Contains: A.S.P. Armor, Shockwave Launcher.
Contains: Battle Hulk, Battle Ram.
Tapjoy Offers
Edit
As last year, you get 2x
Gold
for completing any offer on Tapjoy.

Community content is available under
CC-BY-SA
unless otherwise noted.