Always Ready
is the 17th body armor in the game. It is unlocked at level 19. Costing
25,000

, it provides 5% health.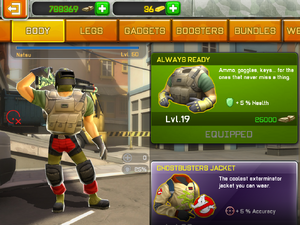 Appearance
Edit
Almost every part of this armor has an equipment and tools. It makes it's wearer look very bulky. It carries a large backpack probably full of equipments. Extra bullets and a zipper can also be seen at the back of the bag. It also wears a shirt with three pockets on the abdomen and a larger pocket at the chest. It also wears a pair of protective black and yellow gloves.
It is one the first body armors that costs cash and provides 5% health.
Vulcan Dynamite Beta Model always wears this torso piece in loading screens except for the Football Fever Update, though he almost never wears it in-game.
Masked Viper sometimes wears this.
Though it makes it's wearer look heavy, it does not have any negative effects on speed.
It is one of the most used bodies in the game, often used by beggining players.
Community content is available under
CC-BY-SA
unless otherwise noted.