The "Bullseye" T-Shirt used the 2nd body armor in the game. 1 of the 1st body armors available and was given to you free along with the Newbie Jackets and the Urban Camo T-Shirt. After the Respawnables 3.0.0 Update, it is no longer free as it now costs 4,000

and unlocks at level 8 but at the same time it provides 2% Agility boost.
Appearance
Edit
A shirt which is a bit off-white, with a red bullseye printed on it and a watch at the wrist of his hand.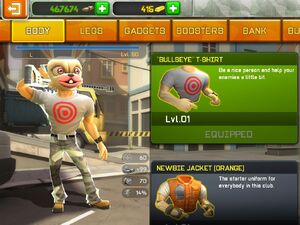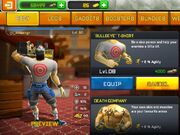 This is the main shirt donned by Mike Hunter, who also wears other private shirts.
Like what the description says, this suit is rarely used in multiplayer because it basically makes the user an easy target.
The first version of Bullseye t-shirt was free to obtain as soon as completing the tutorial. However, on May 29th, 2015 it's been given a price of 4,000 and can only be unlocked at level 8..
Community content is available under
CC-BY-SA
unless otherwise noted.